SO today was the day of the massive
Angels sale
that every single newspaper and magazine has been going on about for the past two weeks! OH MY GOD it was hectic!!! The sale started at 9am, and I thought I was being smart by getting there at 7am to be right at the front of the queue. Boy was I wrong! People had been there since 3pm YESTERDAY AFTERNOON!!!! As soon as I got in a ran straight to the 3's/40's/50's room (I had memorised the floor plan last night!) and managed to grab a couple of dresses but when I looked up the room was so packed I couldn't move. Some girls had already filled two bags worth of stuff! My boyfriend lost me and had to queue half an hour just to get into the 30's/40's/50's room to see if I was in there! Luckily we found each other again and we browsed the book section (which was empty apart from people sorting through their bags of clothes to see what they actually wanted and what they just grabbed in the heat of the moment!) and I found a couple of Elle magazine annuals from the 40's and 50's which I'm very chuffed about! In total I walked away with 5 dresses, a playsuit, 4 handbags, a belt and 5 books. Unfortunately I don't get any of these things until Christmas because everything was bought by my wonderful boyfriend as a Christmas present (although they do need alterations before they are wrapped so I think I will sneak in some outfit shots! Hee Hee!) Oh and I spotted Susie from
Style Bubble
but I was too shy to say hello, plus it felt a little stalker-ish!!
What I was looking for was a coat, but to no avail. Not that I really need another coat, but I seem to be collecting them! I found a couple of nice black curly fur coats but they were all real so I didn't get them. If
this
coat from Sally Jane Vintage was a little bigger in the bust I would be buying it: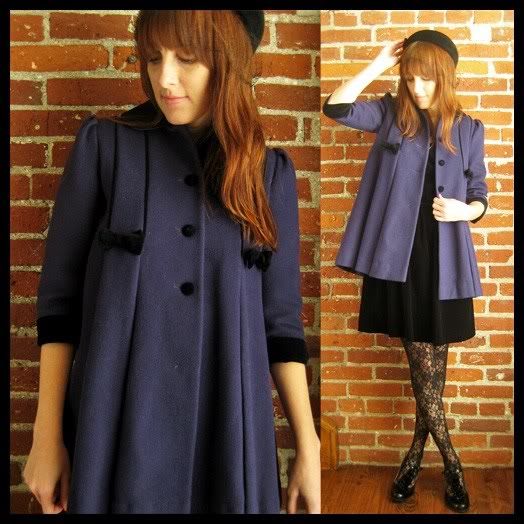 As you can tell, I love just about anything with a bow on it!
Anyway, enough about me, what have you been up to this weekend?