Yesterday I watched a movie that I loved when I was younger,
Romy and Michelle's High School Reunion
(with Lisa Kudro from Friends), it's a comedy about two dumb blonde girls who go to their high school reunion.
I remember loving the bright, fun outfits that they wore in the film! It was made in 1997 but it also has flashbacks to their years in school in the 80's. Admittedly, some of the clothes are entirely questionable, like the shiny dresses on the cover of the movie but there are some pieces that I would totally wear!
The patent red jacket is certainly not my taste but I love the leopard print.
In a few scenes Michelle is wearing a really cute matching cherry necklace and earring set. I found a similar one for sale at
Sydney's Vintage Clothing
for £90.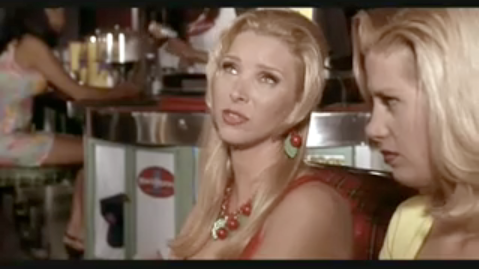 Here's a scene where they have a flashback to their high school prom. Their outfits are totally 80's Madonna, but I really like Romy's dress with the short pink skirt. It looks like something that you could buy in TopShop today!
They are even stylish at the gym - Michelle is rocking the nautical trend waaay before everyone else!
I mostly love the sunglasses in this scene, but the yellow and gingham are so cute.
I love this outfit because red has always been one of my favourite colours, but also because it also looks really mod.
I adore Michelle's pink scarf, and I believe that both of them are by
Lulu Guinness
because of her trademark lips and lipstick prints.