A short while ago I received a fantastic book called
Vintage Shoes
and I just had to share some of the amazing photographs from it with you. It has a foreword by Christian Louboutin and is about 218 pages of eye candy!! Here are some photos and text from the book:
1900-1919: Edwardian Elegance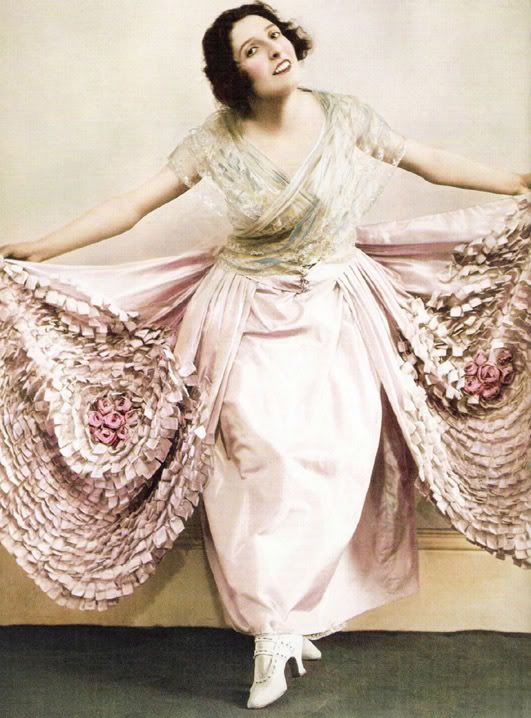 The most significant shoe style of the Edwardian period was the Louis or French heel, which had an hourglass outline that went in at the waist and flared out at the bottom. The combination of graceful shape and sturdy construction meant that the heel was both easy to walk in and elegant to the eye.
A black and white leather slip-on shoe, circa 1912, made by William Arnold of New York.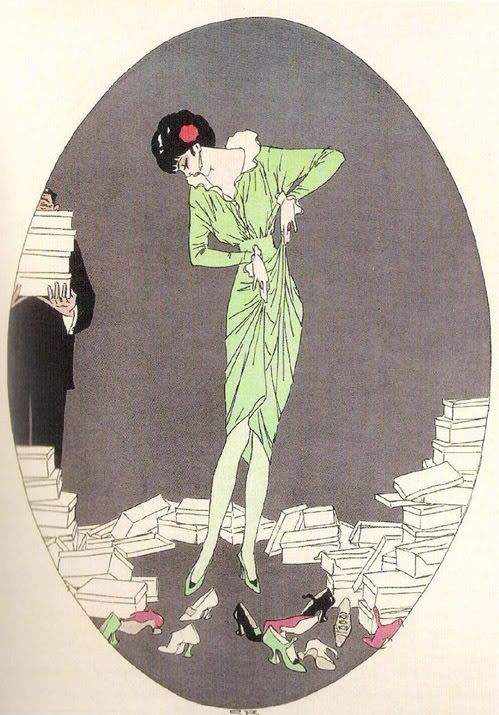 A coloured Danish magazine illustration of 1914 depicts a woman trying on but not buying shoes, all with the popular Louis heel.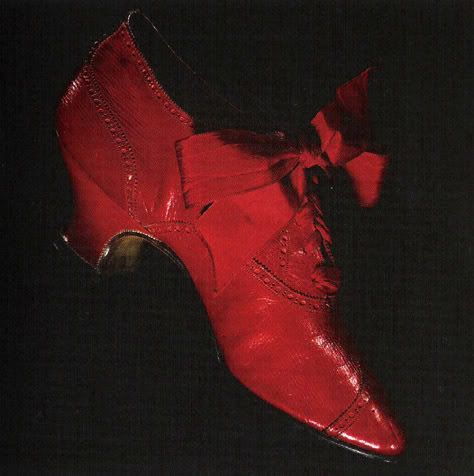 A red leather shoe by Hook Knowles and Co, circa 1900. This low-heeled shoe is laced with broad red silk ribbon.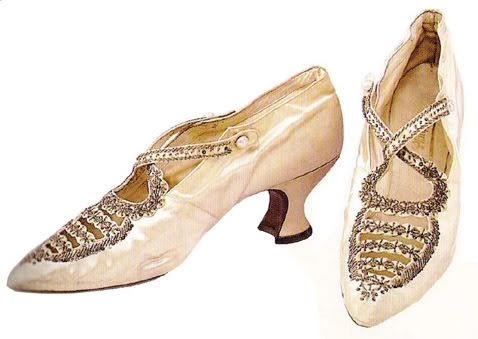 A pair of white satin strapped shoes from the first decade of the twentieth century, intricately beaded and fastened with pearls.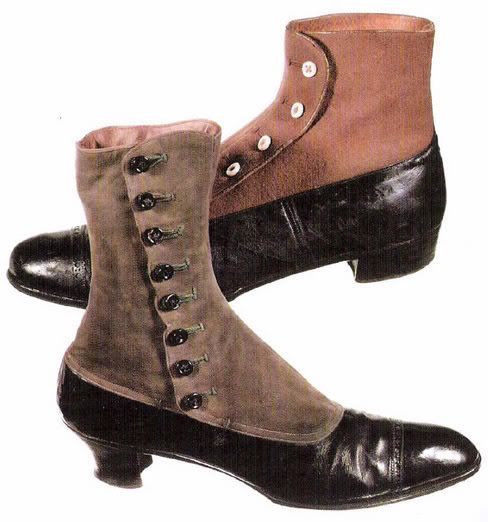 Boots with buttoned gaiters were worn for many outdoor and sporting activities such as cycling, golfing and walking, usually with a skirt that rose up to 15cm off the ground. The men's boots (top) are in patent leather with a fawn cloth gaiter, circa 1900, while the women's are in grey suede and date from 1910.
1920s: The Modernist Shoe
Modernism changed the look of the shoe in the 1920s, as Cubist aesthetics, Bauhaus austerity and American streamlining entered the vocabulary of the designer in the form of Art Deco. A key change in the 1920s was the disappearance of the boot. The new shortened skirt created an unsightly gap between he top of the boot and the hem of the skirt, a gap the yawned wider and wider as the decade progressed.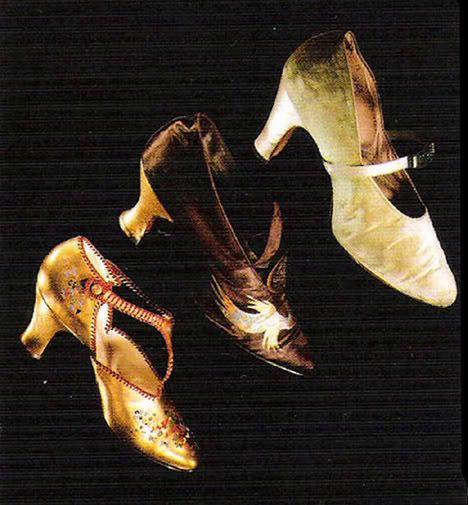 From top, a pale eau-de-nile velvet shoe with a green diamanté fastening from Edward Rayne, 1928; a brown satin evening shoe by Stead and Simpson, decorated with a golden hand-painted phoenix from 1922; and a 1925 golden kidskin T-bar dancing shoe by A Rambaldi, covered in hand-painted flowers.
A pair of buttercup yellow satin pearl-button bar shoes with a darker toned crepe-de-chine and turquoise rosette detail, circa 1920-25.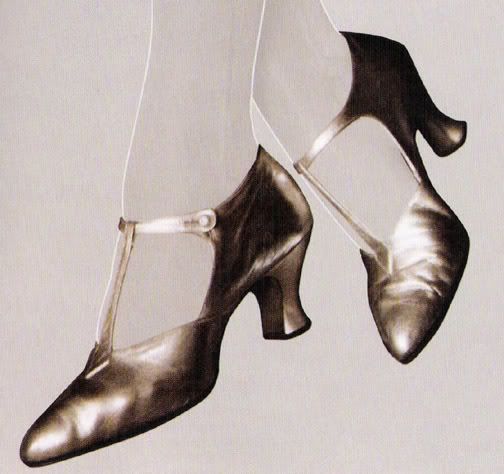 Silver metallic T-bar shoes with a Louis heel.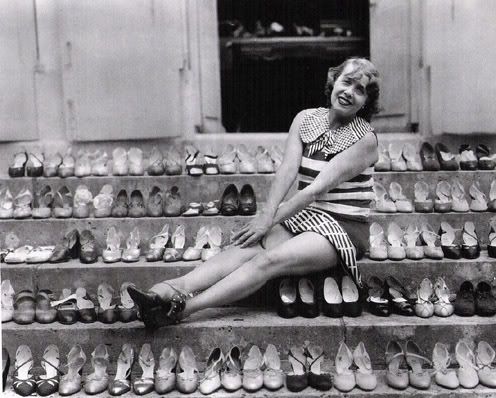 The infamous French showgirl and music hall star Mistinguett with her vast collection of high-heeled shoes.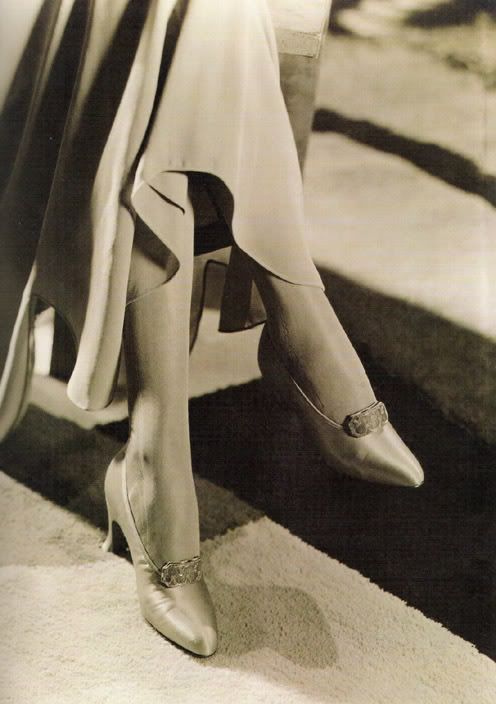 Hellstern's trademark deluxe satin pumps with an enamel-and-rhinestone Art Deco buckle and Louis heels. The high-cut vamp encloses the foot.
1930-1947: The Hollywood Heel
As the 1930s progressed, women across the whole spectrum were able to buy into the new glamour of the decade. T-straps and bar shoes continued the popularity they had enjoyed in the 1920s and heels became higher and higher, reaching over 3 inches by the end of the decade. High slingbacks were considered very sexy and became standard issue for pin-up girls and any film starlet who wanted to suggest a rather naughty image.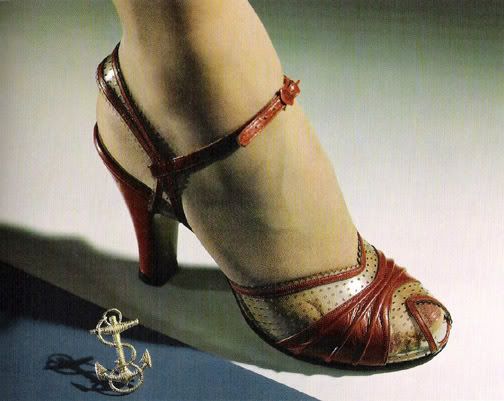 A red kidskin and clear vinylite draped evening sandal with front fastening buckle by Newton Elkin, circa 1941.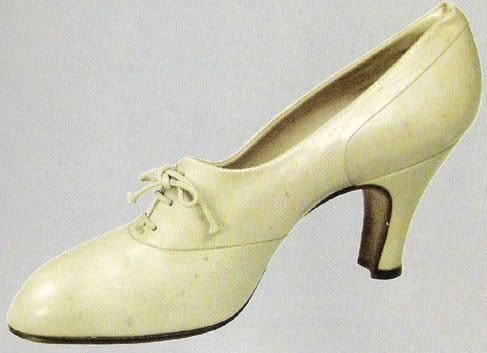 A streamlined lace-up 1937 day shoe by Perugia that is a study in restrained elegance.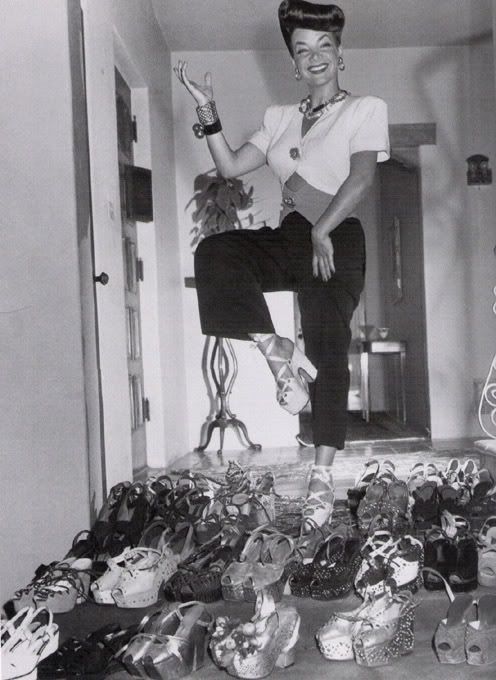 Carmen Miranda modelling platforms in 1944. As the most popular entertainer in 1940s America, she popularized this towering shoe. Here she displays her extensive shoe collection.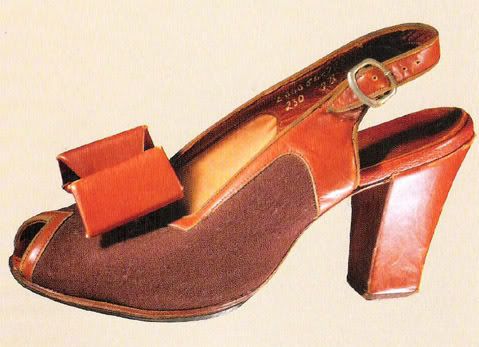 A British gabardine women's slingback with leather bow, bound in leather, circa 1947.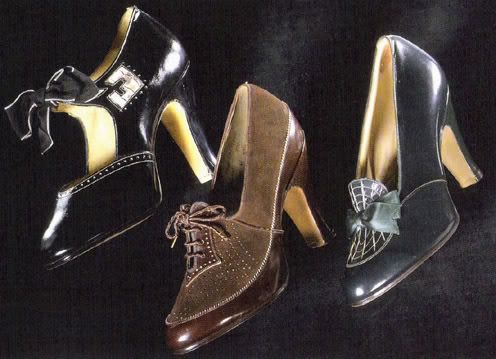 The decade saw every colour of shoe imaginable, including Elsa Schiaparelli's 'shocking pink' and sombre shades such as maroon, black, brown and navy. By the late 1930s, a wider variety of colours was available than ever before. Rainbow colours in suede and satin appeared, but darker, richer colours, with names such as 'fir green', 'Havana brown' and 'midnight blue', were also fashionable.
1948-1959: New Look Shoes
The euphoric end of the Second World War meant that the time was ripe for shoe designers to take flight with their imaginations and indulge female consumers desperate for a touch of glamour after the drudgery of war. In 1956, at an Italian trade fair, an aluminium heel was displayed. With this innovation, heels could be ultra thin and highly durable, and by the end of the 1950s, a 5 inch heel had become industry standard.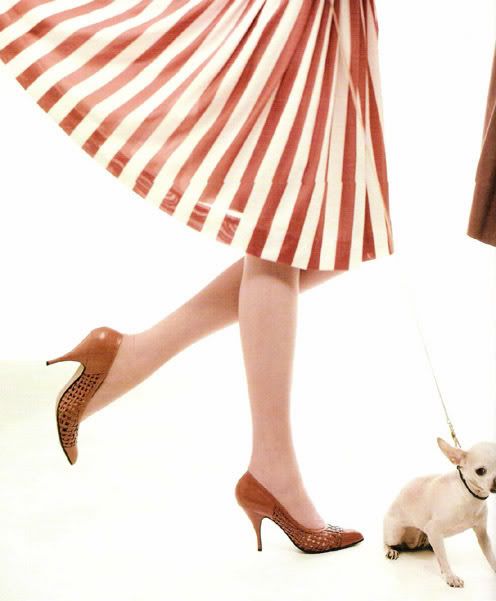 Careful coordinating of clothes and accessories was an essential fashion rule, as seen in these new season shoes from 1959, worn with stockings and skirts in toning colours.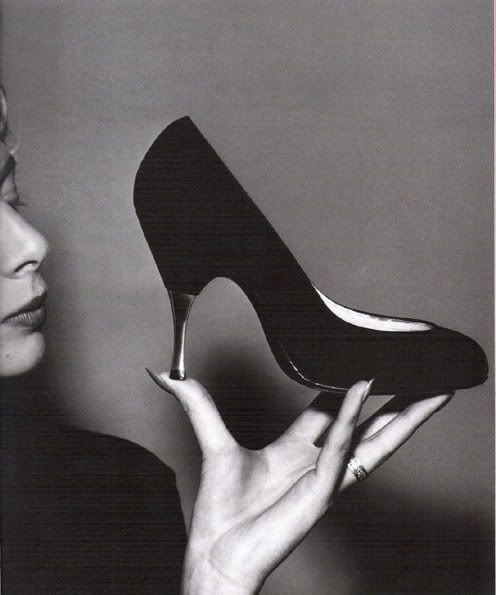 A model holds an aluminium-heeled stiletto shoe made with black suede at a show of Dolci's autumn collection held in London, 1956.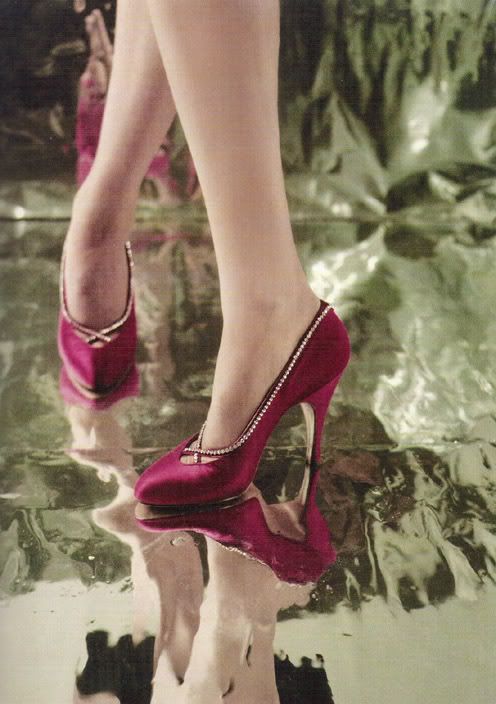 Every occasion demanded the correct footwear. These 1953 red rhinestone-studded high-heeled opera pumps are from Charles Jourdan, the first shoe designer to place advertisements in high-end fashion magazines, which helped associate his name with haute couture.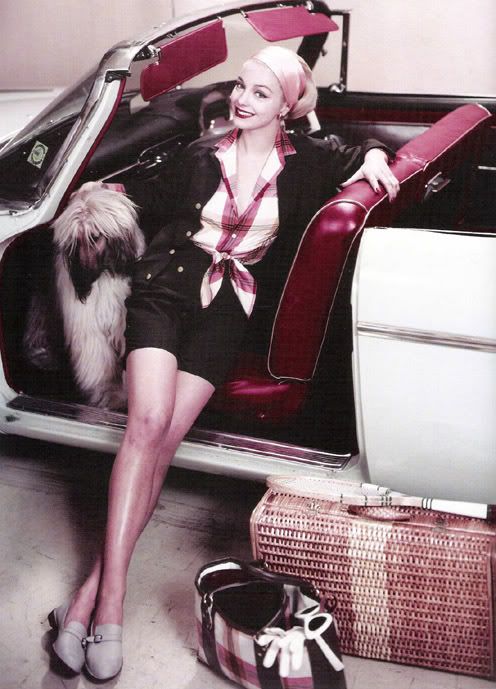 An alternative to the high-heeled 1950s shoe was the low preppy loafer worn by many teenagers. Here a pair of side-buckled driving loafers are worn by model Gretchen Harris in 1957.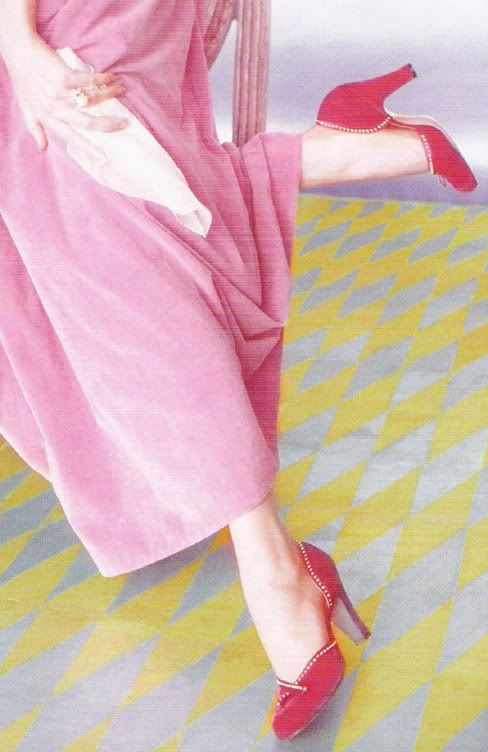 The opera pump was an expensive, decorative version of the popular court shoe that was worn by most women in daytime. Opera pumps like this red velvet rhinestone-studded pair by Palter DeLiso were worn at formal evening events.
1960s: A Youth Revolution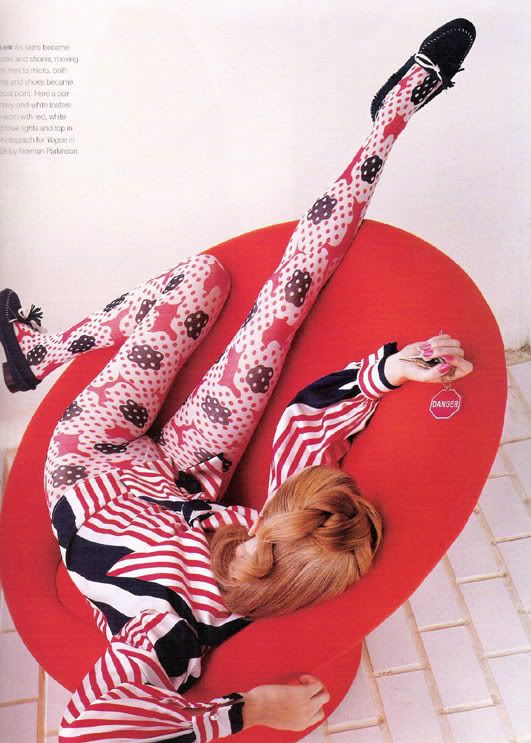 The death of Dior in 1957 seemed symbolic. A new decade was hovering on the horizon and an entirely new attitude to fashionable consumption was on its way, completely divorced from the rigid structures of French couture. Teenagers began to dictate fashion in a manner that was unprecedented, and the refined chic and structured silhouette of the 1950s was supplanted by the androgynous pre-adolescent body of Twiggy. Although, some older women still wore the stiletto style of the 1950s, but note the squared-off toes.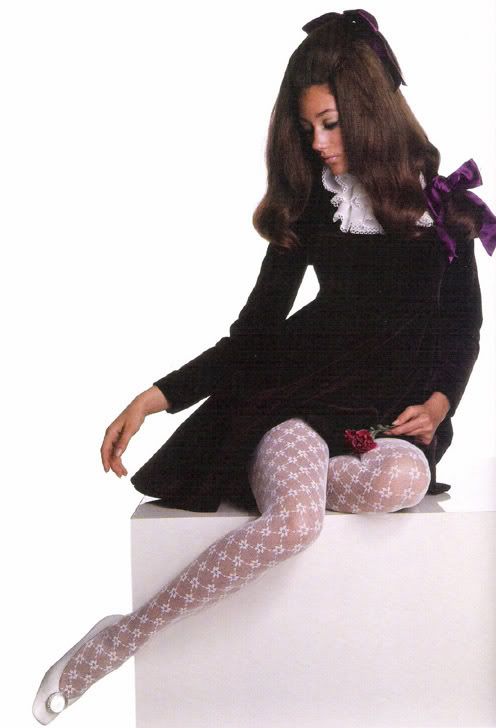 A model sitting holding a single carnation and wearing a dark brown velvet dress with a linen jabot at the neck by Chester Weinberg. On her feet are white crepe shoes with silver buckles by Charles Jourdan, 1967.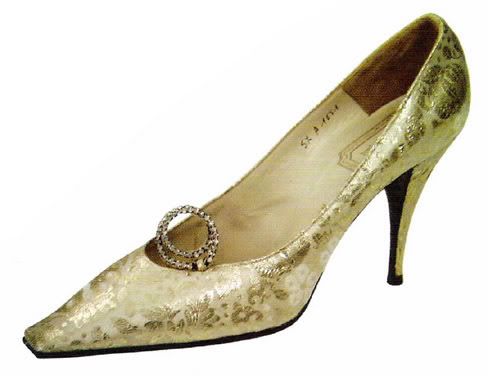 A brocaded and gold lamé shoe by Roger Vivier for Christian Dior, 1962.
A black Mary Jane heel by Charles Jourdan, 1966, with primary coloured rainbow detail on the heel and toe. A green-and-beige Mary Jane with Cuban heel for Pierre Cardin in 1969.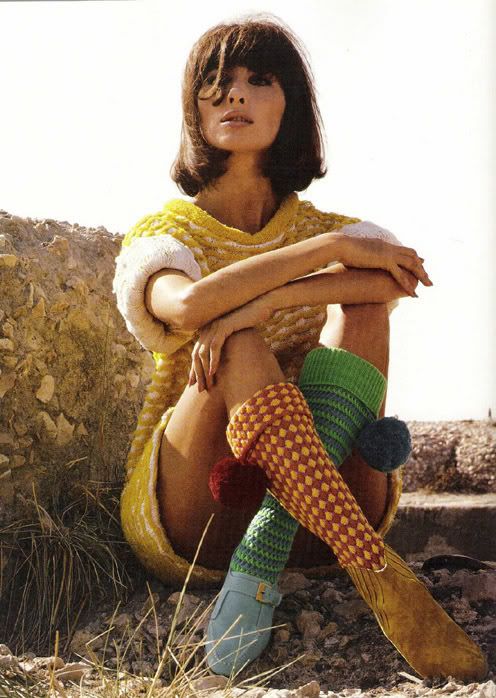 Ferragamo suede footwear modelled in 1965; on the right, a yellow suede ankle boot, on the left a blue suede buckled shoe. They are worn with colourful mismatching socks with pompoms.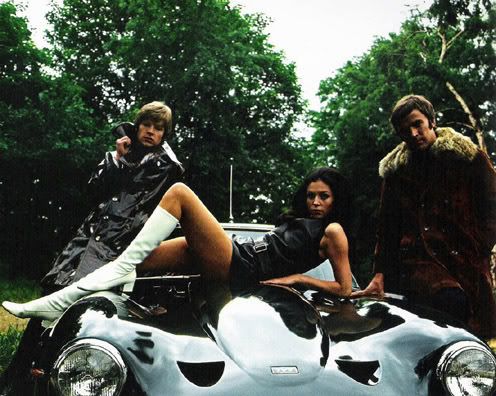 The racy image of the miniskirted dolly bird in white Go-Go boots invaded fashion imagery and advertising in the late 1960s and became a shorthand for 'glamour'.
1970s: Biba and Beyond
In fashion terms, the 1970s is one of the most tumultuous of decades. A woman of fashion could choose to put on a pair of glam glitter platforms and a feather boa, a halterneck dress and a pair of silver disco stilettos or pierce her cheek with a safety pin and pogo in a pair of black vinyl fetish boots - all in the space of ten years.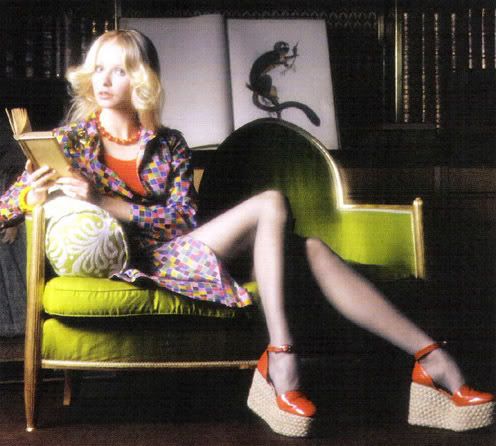 Throughout most of the decade, the use of natural material predominated. The traditional rope sole of espadrilles soon became a feature of leather platform shoes. Here are a pair of orange ankle-strap City Lights Studio shoes from 1973.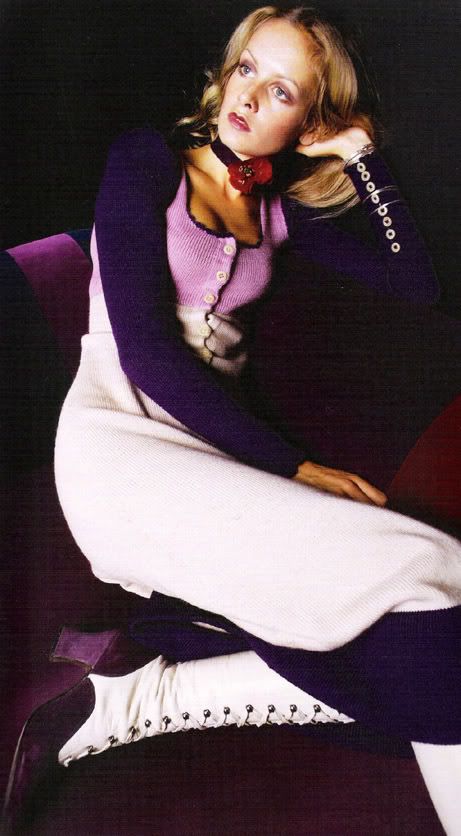 The granny boot was a popular retro style in the early part of the decade. Here Twiggy wears a two-tone suede and leather lace up boot in 1970.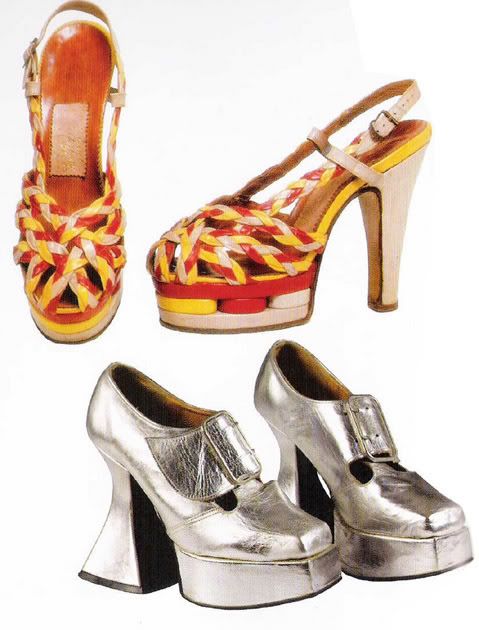 Plaited leather platform slingback sandals, circa 1970, and silver leather buckle 1970s platforms by John Fluevog for Sacha.
Appollonia Van Ravenstein, photographed by Norman Parkinson for Vogue in 1971 wears elegant high-fashion heels with a platform in a shape many associate with early designs of Manolo Blahnik.
Thea Cadabra created fantasy heels in the 1970s. Here she presents a cheeky Maid court shoe in monochrome patent leather with a heel sculpted by James Rooke.
1980s: Dress for Success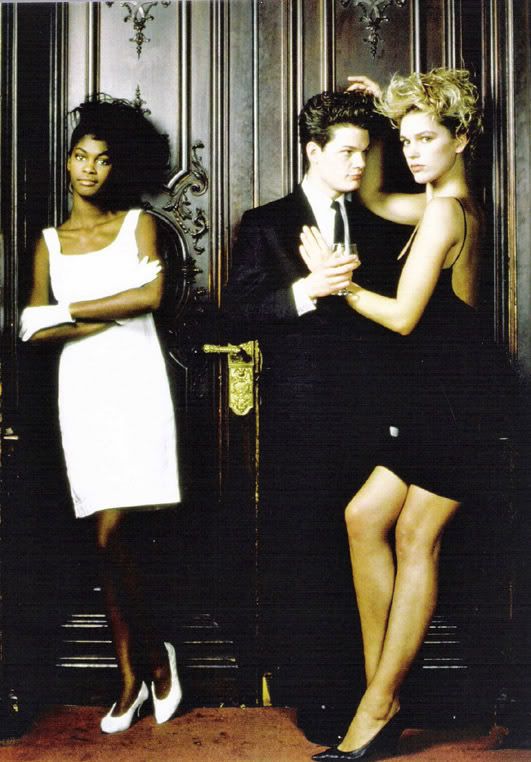 The 1980s was a label-obsessed era: logo-mania was rife and the names to be seen in were Gucci, Louis Vuitton and Hérmes. Accessories provided a clear evidence of a successful lifestyle. Discretion was out and there was no such thing as a vulgar designer shoe. High heels dominated after Manolo Blahnik had re-established their reputation as a shoe of glamour, and a new heel shape was even devised; the cone shape.
Toe details on Gina shoes from the 1980s (top left of image). Highly decorated toes were a feature of the period.
Embellishment took many extravagant forms in the 1980s. Here, red suede Gina shoes have a silver diamanté ribbon detail and silver leaf decoration.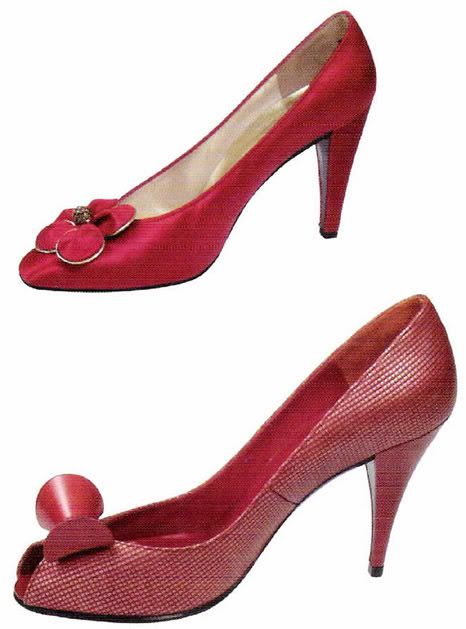 A 1980s red satin pump with toe rosette and a 1986 red-print peep-toe with bow decoration and needle heel. Both by Charles Jourdan.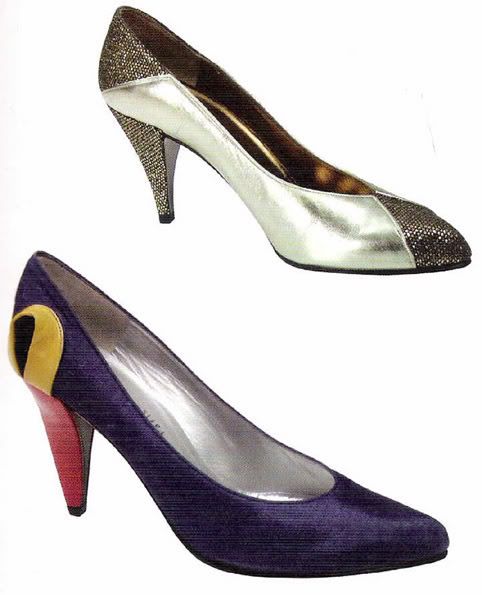 A silver leather shoe by Christian Dior, 1987, with black-and-gold honeycomb detail on toe, heel and back. A 1988 blue fabric court shoe with red leather heel and yellow leather decoration by Charles Jourdan.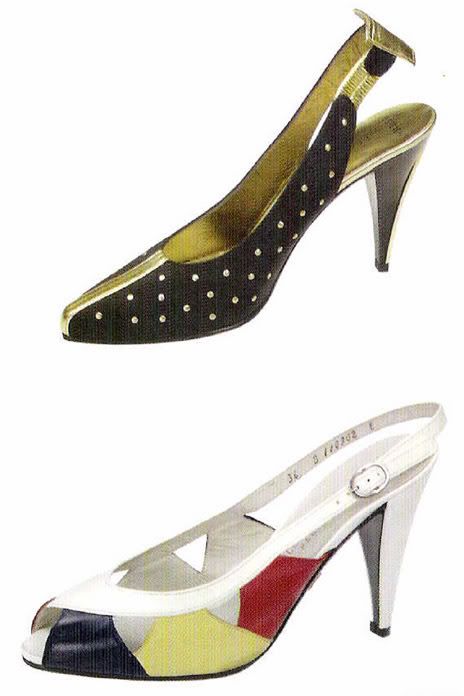 Gold-studded black slingback with gold leather, by Charles Jourdan, 1988; white and multicoloured upper with cut-outs from Charles Jourdan, 1983.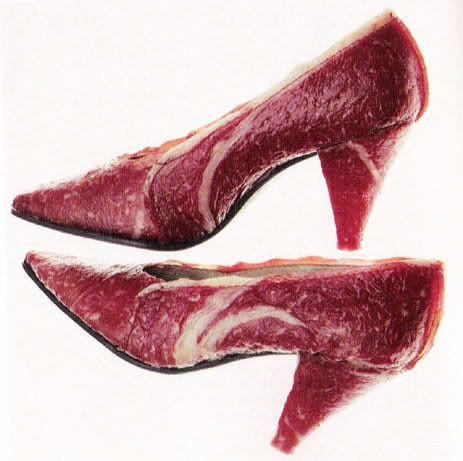 An example of Tokio Kumagai's 1984 'Shoes to Eat' series. The collection took inspiration from the artificial food used to temp customers in the windows of downtown Tokio restaurants. This pair of heels were covered in strips of red, raw artificial 'beef' made out of acrylic.
Also, today I received a little package through the post from Sandra over at
Debutante Clothing
. It was a cute little black clutch bag and belated birthday card! How sweet!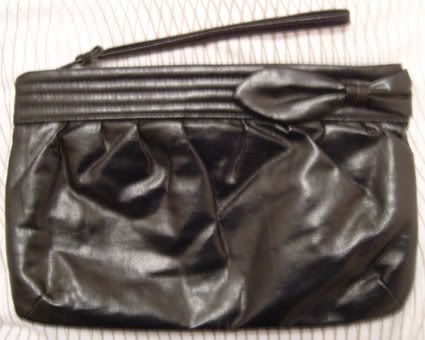 I think I might put the card in a little frame on my wall - thanks again Sandra!