By now anybody who loves fashion will be well aware of the Autumn/Winter 08 trends, but with so many people rocking the same looks this winter, how do you stand out from the crowd? VINTAGE! Yes, yes, here I am banging on again about vintage, but there is no way you will ever see somebody wearing the same thing as you. So, I have made a list of a few items that will see you stylishly through winter.
Trend 1 - Sophisticated Goth. The biggest of all the autumn/winter trends. Lots of black, lace, velvet, but pretty details to make the 'goth' look wearable.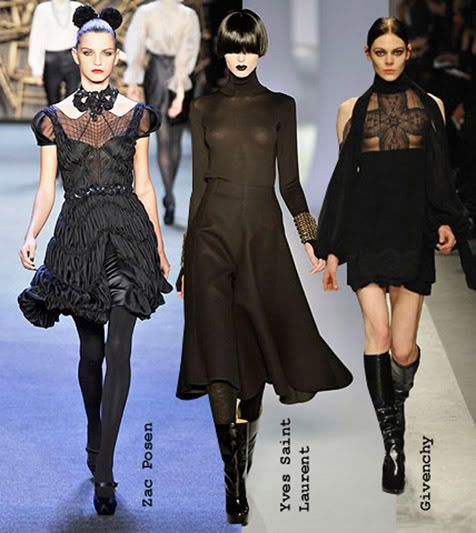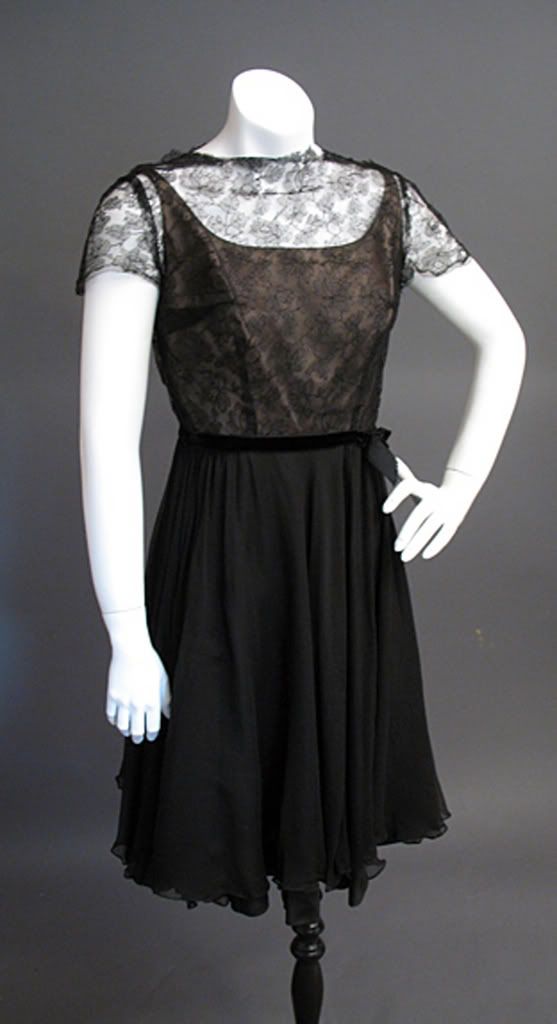 1960s black lace & chiffon dress
- Past Perfect Vintage £57.50
I think this item is my favourite out of the whole post. I love the delicate lace overlay and the shape of the dress with the cinched in waist is so flattering for everyone.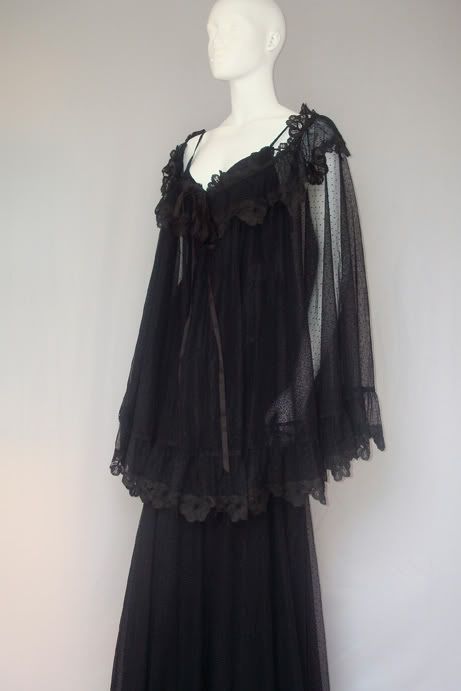 1970's Frank Usher gown with cape
- eBay £25
This dress caught my eye because I can imagine Mary-Kate wearing this in her cool goth/grunge way. Plus, the additional images on eBay show you how the cape can be used in different ways.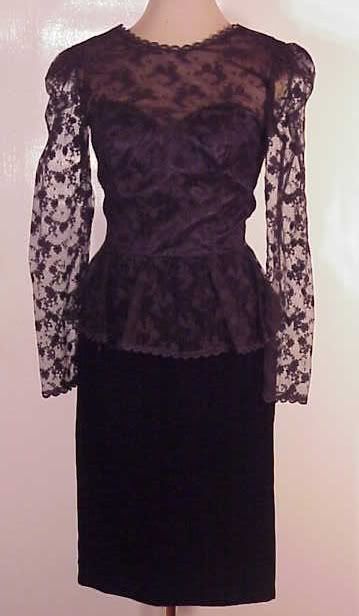 1980's black lace & velvet peplum dress
- Babylon Mall £12
I love the peplum detail on this dress, which is also another very big trend at the moment. If the lace sleeves are a little too much for your liking they could easily be cut into short sleeves or taken off completely to make it a sleeveless number!
Trend 2 - Tartan. Another massive trend that is all over the high-street. I like this trend because you can just use a hint of plaid or if you are really brave there are some fabulous bright tartan numbers to chose from!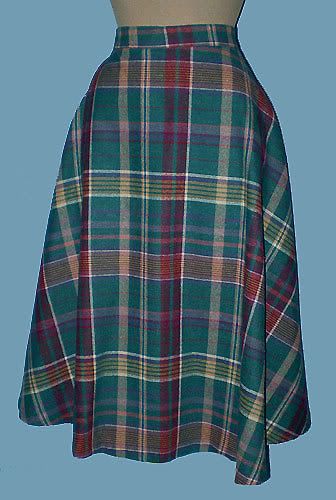 1970's green plaid circle skirt
- Babylon Mall £9.99
The colours on this skirt are a nice change from the red based tartans, and remind me of being cosy by a warm fire!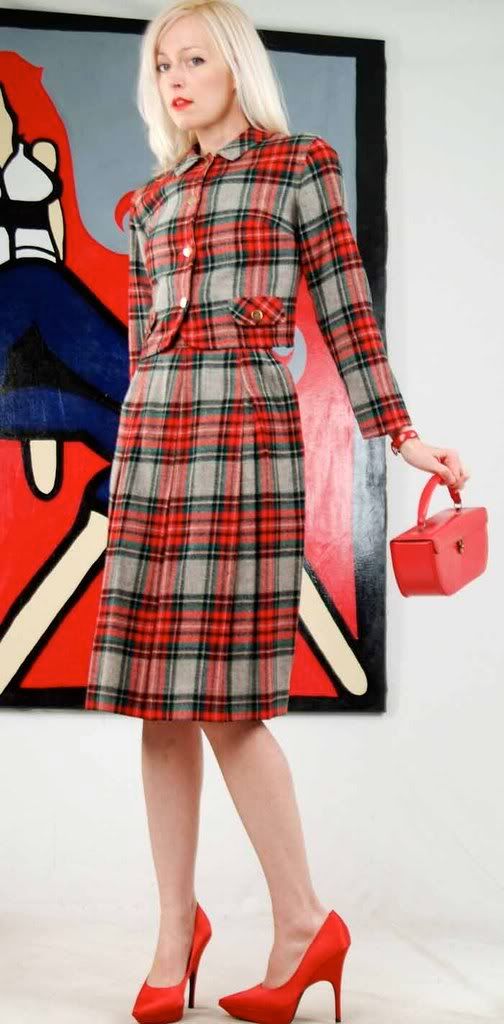 1960's tartan wool skirt suit
- eBay £12.50
This skirt suit is definitely not for the faint of heart! It is loud, unapologetic, and a must for somebody who likes to be noticed.
Victoria's Secret tartan bustier
- Rokit £20
This tartan bustier would look great with high waist jeans, and is a perfect way to wear the trend in a more subtle way.
Trend - Oversized Knitwear. I chose this trend because everybody loves being snuggly sometimes, so here are a few items to keep you warm and fashionable at the same time!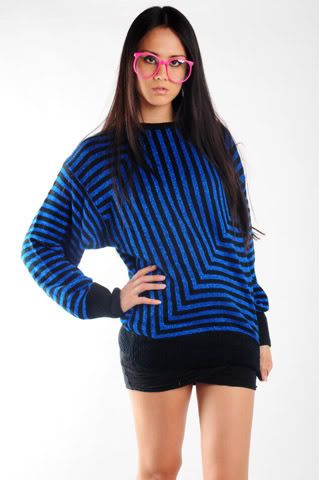 1980's op art jumper
- Nasty Gal Vintage £34
I love the pattern on this jumper, it looks like it could have been designed by Bridget Riley. Plus, if you are brave enough, it is just about long enough to be worn as a sweater-dress!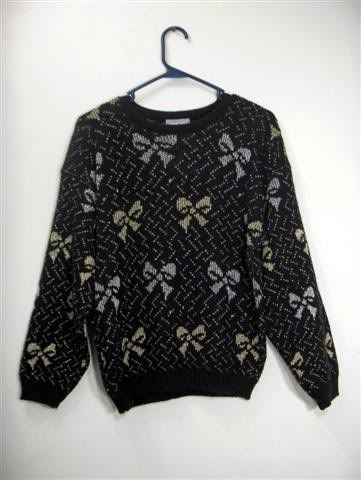 1980's black bow jumper
- Etsy £5
I adore anything with bows on, and this jumper is no exception!! The sparkly lurex thread makes it an ideal jumper to wear over the Christmas holiday too.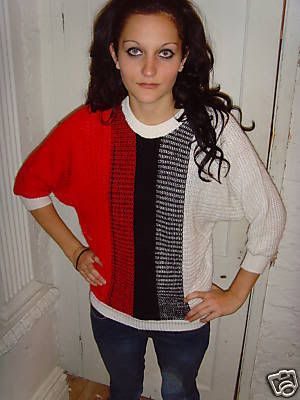 1980's red, black and white batwing jumper
- eBay £17
The design on this jumper is simple but eyecatching, and I am all for wearing bright colours during the winter months to lift your spirits on dull days.